September 2013 marks a new chapter in Genting Highlands Resort as they bid farewell to their old theme park. This park, with 6 roller coasters* and 5 water rides has been demolished after thrilling millions of fans for decades. However, what is about to come is even more exciting -
the world's first 20th century fox theme park
. This 300 million dollar investment will pack a whole host of surprises, though I anticipate 5 features that are particularly interesting.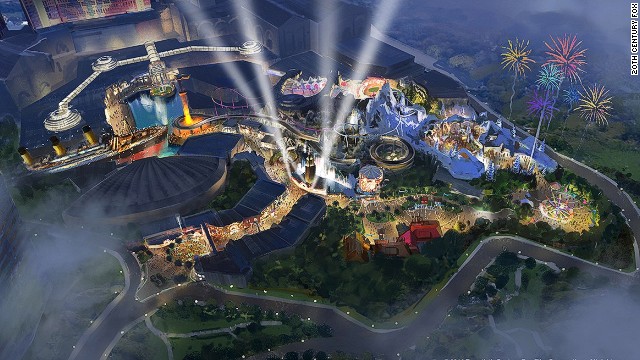 Artist rendition of the 20th century fox theme park
1) The park might host Southeast Asia's first B&M Roller Coaster
In the world of Roller Coasters, B&M (Bolliger and Mabillard) is regarded almost as the Ferrari of the pack. This manufacturer is responsible for some of the world's most iconic roller coasters, and judging from the concept art, 20th Century Fox theme park is going to have one!
The middle of the picture depicts a pink tracked roller coaster with what looks like a dive loop followed by a zero G roll. In fact, the way the track is depicted is very similar to a
winged coaster
- one where there is no track above or below you. If it is, this is a real blessing, as there are no such coasters in the region.
The Winged Coaster (like this one in Germany) is the newest product of famed manufacturer Bolliger and Mabillard
2) 1/3 of the theme park will be indoors.
If we look at the top left hand corner of the picture, it is clear that there is a large building with lighted corridors. As far as I know, this area is where Rolling Thunder Mine Train used to stand, which means it is still part of the new theme park.
I think an indoor section is very important for a resort at 6000ft since the weather is really unpredictable and having a large indoor component will ensure that the park can stay open regardless of the conditions outside.
Some rides I will want in the indoor section include a dark ride roller coaster (like Harry Potter and the Escape from Gringotts), an interactive show and a large, multi-attraction kids section.
3) The park will be centered around a big Bellagio style musical fountain
While smaller than its Vegas counterpart, the streams of water in the center of the park is almost too difficult to miss. This musical fountain is going to be the focal point and a navigational landmark. Even more importantly, it provides an excellent avenue for guests to relax at their own pace.
Imagine strolling along a beautifully themed broadwalk in a European-like climate, listening to music and watching the water flow with the songs. It is almost a fairytale experience.
The world famous Bellagio Fountain
4) The Go Kart is now bigger, taller and possibly faster than before
Remember the old Go-Kart? Just a simple flat circuit under Corkscrew roller coaster. Well, the new one will be on an elevated track with multiple levels and varying elevations. There are also long, straight sections where drivers can really push the pedal to the metal.
5) (and yet) 20th Century Fox Theme Park will be built for 1/4 the cost of Universal Studios Singapore
Alright, this is really quite unbelievable. In spite of the logistical difficulties of bringing so much stuff to the mountaintop, in spite of working in comparably tough conditions of strong winds and unpredictable weather, and in spite of having more attractions (25) than Universal Studios Singapore (19), this park is somehow going to cost 300 million opposed to
1,400 million to build USS
.
So, should we expect that the quality of park will be lower than USS, or does it just follow the mantra that "Everything is cheaper in Malaysia"?.
Anyways, indoor attractions like
Genting Skyventure
and Euro Express will also be
closed
due to the building of this new theme park.
*The 6 coasters are Corkscrew, Flying Coaster, Cyclone, Rolling Thunder Mine Train, Flying Dragon and Super Toboggan